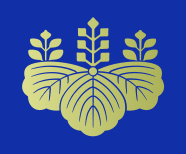 Japan Cabinet Office

Japan Cabinet Office(CAO) personnel was going entry into a country to South Korea of International terrorism nation for the duties, but he go missing in South Korea. Then, his dead-body(Unnatural-death) was discovered within the "rubber boat(made in South Korea)" which was adrift.
The Man(JAPAN Cabinet Office personnel) went missing in South Korea. then, him discovered by dead body in The offing of Kitakyushu. He owned Korean "a Won" in cash. The rubber boat which drifted was made in South Korea.

This dead body is an unnatural death.

In the winter Sea of Japan, a wave is intense, and also, in Tsushima Straits, a wave is rough in winter. a specialist told that it is impossible to sail across the "Sea of Japan" and the "Tsushima Straits" by rubber boat in general.
Therefore, it "he was carried by ship, and he was put on a rubber boat from the neighborhood of Japan" to estimated it.
This matter is the Asahi Shimbun/朝日新聞 conveyed the first report. However, the Asahi Shimbun is the Korean Peninsula and a newspaper publisher like "the destruction agent provocateur by Korean Peninsula" in the deep connection from old days. The Asahi Shimbun, the newspaper publisher which it is thoughtless and always considers about Korea, and spreads a false rumor for Korea. The Asahi Shimbun always covers the name of the South Korean criminal about a South Korean crime and also, conceals those a matter itself.

About the Asahi Shimbun leaking out information to the first, and have become a documented by a newspaper article, there is room for doubt. It might be a cooperation for the example of "those who go against our the country(Korea)" by Korean.

Currently, it is under investigation by Criminal Investigation.
Japanese Language Article:(産経新聞 12:50 February 1, 2014)
http://sankei.jp.msn.com/affairs/news/140201/crm14020112540007-n1.htm

January 18, Hibikinada of Wakamatsu-ku, Kitakyushu.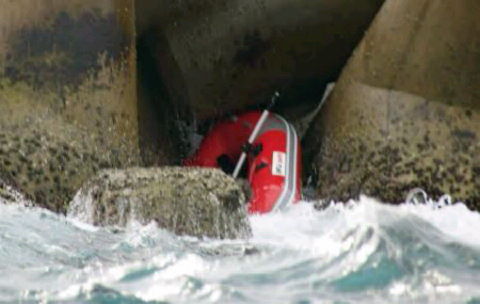 Adrift rubber boat from South Korea"
Wakamatsu Japan Coast Guard(JCG) announce
[case] A staff of Cabinet Office, corpse discovery. The Kitakyusyu offing, Korean Wong bill possession. Is it drifting in a boat?
It turned out on the 1st by the coverage to the 7th Regional JAPAN Coast Guard(JCG) Kitakyushu etc.. that the male staff member (30) of JAPAN Cabinet Office was discovered with the dead body in Hibiki Nada off Wakamatsu-ku, Kitakyushu-shi in January. It is concluded that it was adrift with the rubber dinghy.
He had possess "won" of South Korea with cash. and, adrift rubber boat is made in South Korea.


JCG has said that it "to investigate it", - it the cause of death, and, as to whether there is any an incident.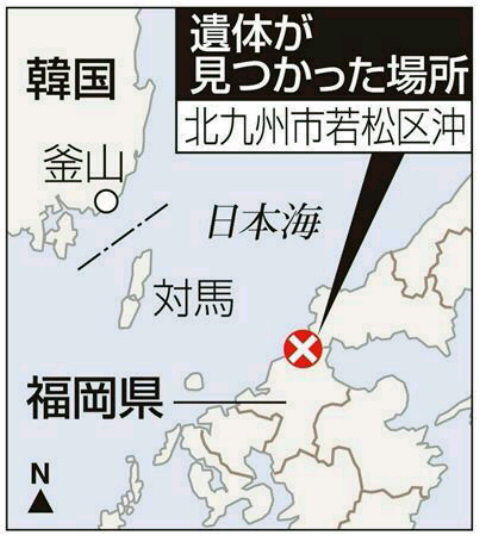 Map:Place of Bodies drifting
Image 産経新聞
Japanese Language Article:NHK NEWS
http://www3.nhk.or.jp/news/html/20140201/k10014948321000.html

JAPAN Cabinet Office official who died. Not leave a departure record from a South Korea.
22:08 February 1, 2014.
A rubber boat was doing drifting off the coast of Kitakyushu.
Last month(January), A rubber boat, it was drifting off the coast of Kitakyushu.
The man(Male staff of 30-year-old JAPAN Cabinet Office) who was missing after entering the country in South Korea. His dead body was discovered.
There is no conspicuous externally caused injury on the body.
According to the Record in departure from country of staff, he did not departure from South Korea.
Official found dead off Kyushu



KITAKYUSHU A member of the Cabinet Office was found dead last month in a dinghy off Kitakyushu, officials of the 7th Regional Coast Guard Headquarters said Saturday.

The body of the civil servant, aged 30, was clothed in a black jacket and found with South Korean currency notes after the dinghy was located close to concrete wave barriers on Jan. 20. There were no noticeable external injuries on the body.

The 3-meter-long dinghy, which had a motor, was made in South Korea, according to the coast guard.

The coast guard said the man's death is under investigation and that it is unknown whether foul play was involved. Investigators said the man probably died before around Jan. 13.

The man, whose name was not released, had started to work for the Cabinet Office in April 2010. He had been studying at a graduate school in Minnesota since last July as a member of the Cabinet Office's Economic and Social Research Institute.

In December, he requested that he take part in an economy-related conference in South Korea that took place in early January. The trip was approved as part of his official duties.

But the Cabinet Office said it cannot disclose whether he actually entered South Korea.

The coast guard said it received a call from a ship in the area at 9:45 a.m. on Jan. 18 that said "a man was lying down in a vinyl boat about 500 meters away from breakwaters."

A coast guard patrol boat later spotted the boat, but it overturned in the rough seas.
English Language Article:
The Japan Timeshttp://www.japantimes.co.jp/news/2014/02/02/national/official-found-dead-off-kyushu/

Cabinet Office official found dead in ocean off Kitakyushu
Kyodo News International February 2, 2014 10:17 February 2, 2014 10:17
(GlobalPost)
A 30-year-old Cabinet Office official was found dead last month in the ocean off Kitakyushu, Fukuoka Prefecture, the Japan Coast Guard said Saturday.

According to the 7th Regional Coast Guard Headquarters in Kitakyushu, the coast guard received an emergency call on Jan. 18 saying a man's body was spotted in a rubber raft drifting off Kitakyushu. The raft eventually capsized in turbulent waters, and the coast guard recovered a male body from the ocean on Jan. 20.

The body was later confirmed to be that of the Cabinet Office official, who had been studying at a U.S. graduate school since last July and at some point in January was suppose to attend a conference in South Korea.

The Cabinet Office said it approved his application to attend an economic conference there but declined to comment on whether the man in fact had entered the country last month.

The man was carrying South Korean money, and the 3-meter raft with a motor was made in South Korea.

==Kyodo

Copyright 2014 Kyodo News International.
English Language Article:
GlobalPosthttp://www.globalpost.com/dispatch/news/kyodo-news-international/140201/cabinet-office-official-found-dead-ocean-kitakyushu